Hineid Dahab: The days of my life. The days of my life...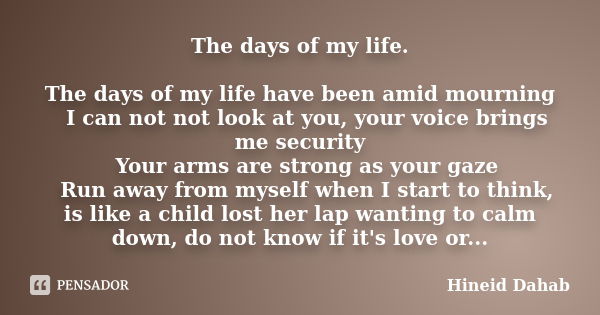 The days of my life.

The days of my life have been amid mourning
  I can not not look at you, your voice brings me security
  Your arms are strong as your gaze
  Run away from myself when I start to think, is like a child lost her lap wanting to calm down, do not know if it's love or passion, but now I'm in your hands
  Let me go, do not talk to me anymore, get all your photos on my album
  Stay silent, always, always, just my thoughts come to you, because it can not escape, impossible love, true love, eternal love, never have anyone beside me, his eyes will carry within me until I don't live anymore, be happy, very happy, I'll know, but I'll be glad to see him smile for real, their smiles bring me tears, because I feel your sadness, love, you always always always wins .......