Suely isabel berudi leal: Sometimes I feel completely crazy,...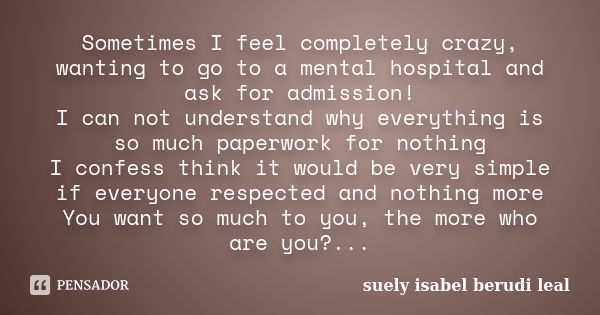 Sometimes I feel completely crazy, wanting to go to a mental hospital and ask for admission!
I can not understand why everything is so much paperwork for nothing
I confess think it would be very simple if everyone respected and nothing more
You want so much to you, the more who are you? What's your archetype to follow, why ?!
We spent a lifetime watching soap operas, prefabricated newspapers and believing that someone has some interest in distracting us and inform. (Wow, they are so good ones).
We spent a life, for what?
Because no one touches? No use change politicians all want power nothing else,
in 2015 people still believe that taking a ruler, will get a thumbs up! This is real?
Stop the world I want to go down ....